The theory behind the cardio twister exercise machine is that it twists your body as you complete the aerobic exercise. If you are just starting to exercise again then this is the machine for you! Today we present to you the Cardio Twister Exercise Machine Reviews.
The manufacturer claims that you can train your entire body with just this machine!
Before you purchase one you need to be aware that this is a good machine; it really can improve your fitness. But, there are certain issues that you should be aware of to ensure your machine lasts.
I've been fortunate enough to test this machine extensively for the last few months and am pleased with the results.
As you'll see from the cardio twister exercise machine reviews, this machine is proving popular. This is not surprising as it promises to train your stomach, shoulders, upper arms, back, butt, and even your legs.
It works on a similar basis to the step-up machines. Your legs will move up and down as though walking or running. It then adds in a handle that you hold and twist from side to side; moving the top half of your body away from the bottom.
The idea is that it increases the strain on your muscles; thereby improving your results.
Customer Reviews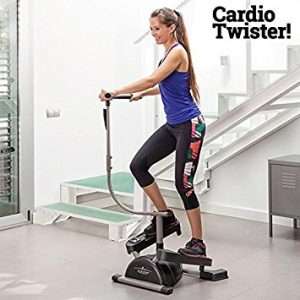 In general, the feedback from customers has been very positive:
4 star rating from Walmart
2 star rating from Ebay users
3 stars from Lose Baby Weight users
This illustrates the fact that the machine is good but does have some drawbacks.
It is a worthwhile addition to your home, especially if you are limited on space or looking for something to do in front of the television.
Advantages
I have found the following benefits associated with this device and other cardio twister exercise machines appear to concur:
Light Weight
Space Saving
Variable Resistance Settings
Easy To Use – With DVD
Relatively Quiet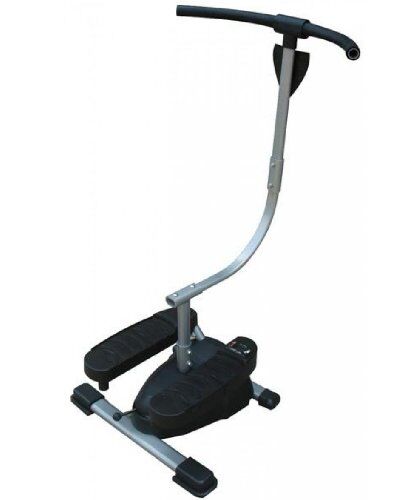 It's Light Weight
The cardio twister exercise machine weighs just 16kg. This is heavy enough that you're not going to want to move it all the time.
But it is light enough for you to be able to slide it out of its storage spot and into the room on a regular basis.
The machine is designed to take a maximum weight of 115kg. This equates to approximately 250 pounds so shouldn't be an issue for most users.
Space Saving Format
The cardio twister exercise machine is not the smallest piece of exercise equipment you can get, especially as it has the handles rising out of the base.
This certainly draws more attention to it which means you may wish to move it when your friends are visiting.
However, the base is approximately 2 ½ feet by 2 feet. The height of the handles is roughly 4 feet.
As far as most home gym equipment goes this is a small piece of kit; you can have it in virtually any room. The real benefit of this is that it is constantly visible; enticing you to use it more and see the weight come off.
It's even possible to keep it fairly discretely at the side of a room and then just pull it out when you want to use it.
Of course, it is worth noting that you should allow a little extra space to ensure you don't bash your walls or furniture when completing the twisting motion.
Variable Resistance Settings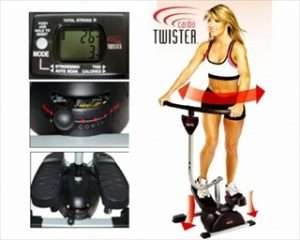 When you first start exercising it's important to start at the bottom and build up your stamina and exercise abilities.
In fact, at the start creating a habit is more important than the actual exercise. This is part of the reason the cardio twister is so good. It is always there; making it easy to create a habit.
The machine has a display feature that allows you to see a surprising number of features:
Total yards / steps
Feet per minute or steps per minute
Training time per session and cumulative
Calories burned during your session
The screen automatically scrolls through these facts while you are training. You can also use the mode button to have the total steps shown at the top of the screen and the other information displayed at the bottom.
This can make it easier to read while exercising.
The resistance can be quickly and easily adjusted via a lever to increase the tension on the stepping mechanism. This will make it harder and more challenging to achieve the same number of steps as your last workout!
It is worth noting that I found the resistance change minimal when adjusted. As you get fitter you may feel it is not doing enough for you.
Easy To Use With DVD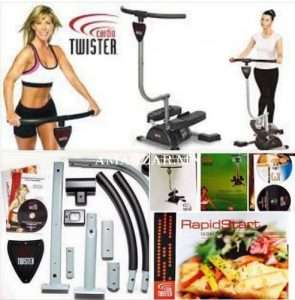 The cardio twister actually comes with a DVD to illustrate how to use the machine. There are several different workout options and example warm-up and cooling down exercises.
This is a great benefit when you've never used a machine like this before. Although relatively simple it is reassuring to know the right way to warm up and cool down. This can help to prevent injuries which will damage your weight loss or fitness efforts.
The main advantage of the DVD is that you can play it while using the machine in your living room. Again, you're not going to need much motivation to get going.
Along with the DVD you'll also get a 10-day diet plan to help you achieve your weight loss goals faster. There is also a user manual should you wish to take a quick look and dive straight in.
Relatively Quiet
The manufacturer claims this is a quiet machine and, surprisingly, they are right. It is not silent but it is quiet enough to allow you to still watch television and hear what the people are saying.
That said, if you have a significant other in the room they may find the whirring noise distracting. But then they could also say that about your heavy breathing!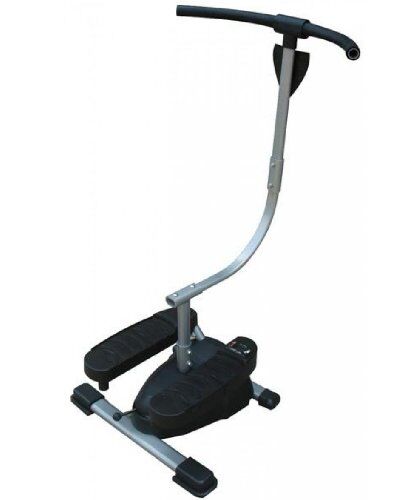 Disadvantages
As already noted, there are several drawbacks to the cardio twister. It is important to be aware of these before you purchase one:
Questionable Quality
Doesn't Appear To Be Effective For All Of Your Body
Limited Workout Routines
Questionable Quality
This is a lightweight, fairly portable machine. Unfortunately, this means that the quality may not be as high as it could be.
While I did not experience any issues there are people who felt it was more of a toy than an exercise machine.
If you feel this then it is important to be aware that if you bought it from Amazon then it can only be returned to Germany!
One of the other main issues is the Z chain which it uses. Looking at the cardio twister exercise machine reviews several users have reported that this comes off on a regular basis. To avoid this happening it is essential that you keep it lubricated and adjust it according to the instructions in your manual.
Other issues relate to bolts snapping or coming off or the chain slipping. This emphasizes the importance of regularly maintaining your cardio twister.
It will only last if you look after it.
Effectiveness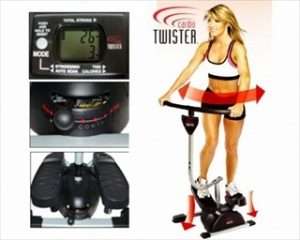 Adjusting the resistance on this machine makes very little difference to your workout. This is something that needs to be addressed.
In addition, despite the claims, the twisting motion has a limited effect on your core. This is because most of the strain will be taken by your shoulders and arms.
It will work on your core but slowly and you are unlikely to see a reduction at the rate you would like.
You will feel the burn in your legs; especially if you keep it up for the duration of your favorite television show!
This machine will not turn you into an Olympic athlete but it will help you to improve your fitness and lose excess weight. Especially if you accompany it with a healthy eating plan.
Workout Routines
The DVD supplies several suggested workouts. These can help to make it more fun and challenging; especially when you purchase the machine.
Unfortunately, the hard fact is that the number of combinations is limited by the machine.
You are highly likely to find it boring or tedious after you have been working out for a week or two.
The TV may provide some distraction to help keep you motivated but a lack of variation is likely to make you want to quit. This will leave you with a nice clothes horse or an unusual ornament in the room.
To make it more fun you're going to need to have a workout companion and set some competitions; this will also help you to get the mist from your workout.
Summing It Up – Cardio Twister Exercise Machine Reviews
If you look round you'll be able to get the cardio twister exercise machine at a price just entering 3 figures.
This makes it an extremely attractive deal, especially if you haven't exercised in a while.
In fact; this is the perfect target market for the cardio twister. It is easy enough to jump on and off that you'll have no excuse for not exercising and it will help you to build a habit. We hope this Cardio Twister Exercise Machine Reviews helped you to make a more informed decision.
As your fitness improves you'll be able to look at alternatives, such as a NordicTrack C990 treadmill.
Just remember, like all exercise equipment, you need to look after it to get the best from it. My recommendation is to the cardio twister exercise machine is a great option when you're ready to start improving your fitness. It is a great first stepping stone.