Did you know that 54% of people who experience low back pain work in a sitting position for most of the day? I'm not one of those, but I suffered for many years with a bad back due to a motorcycle accident years ago. That's why I searched for the best exercise equipment for bad back.
After years of living with pain I discovered that exercise really was the best cure. After trying an array of different exercise equipment I am happy to recommend the Schwinn 430 Elliptical Trainer.
The reason is simple; this is a sturdy, high-quality machine that works all your muscles. In doing so it will strengthen your back without placing stress on your knees.
It might not be the cheapest option but it is a good price for a quality product.
Schwinn 430 Elliptical Trainer – Best For Fitness & Bad Backs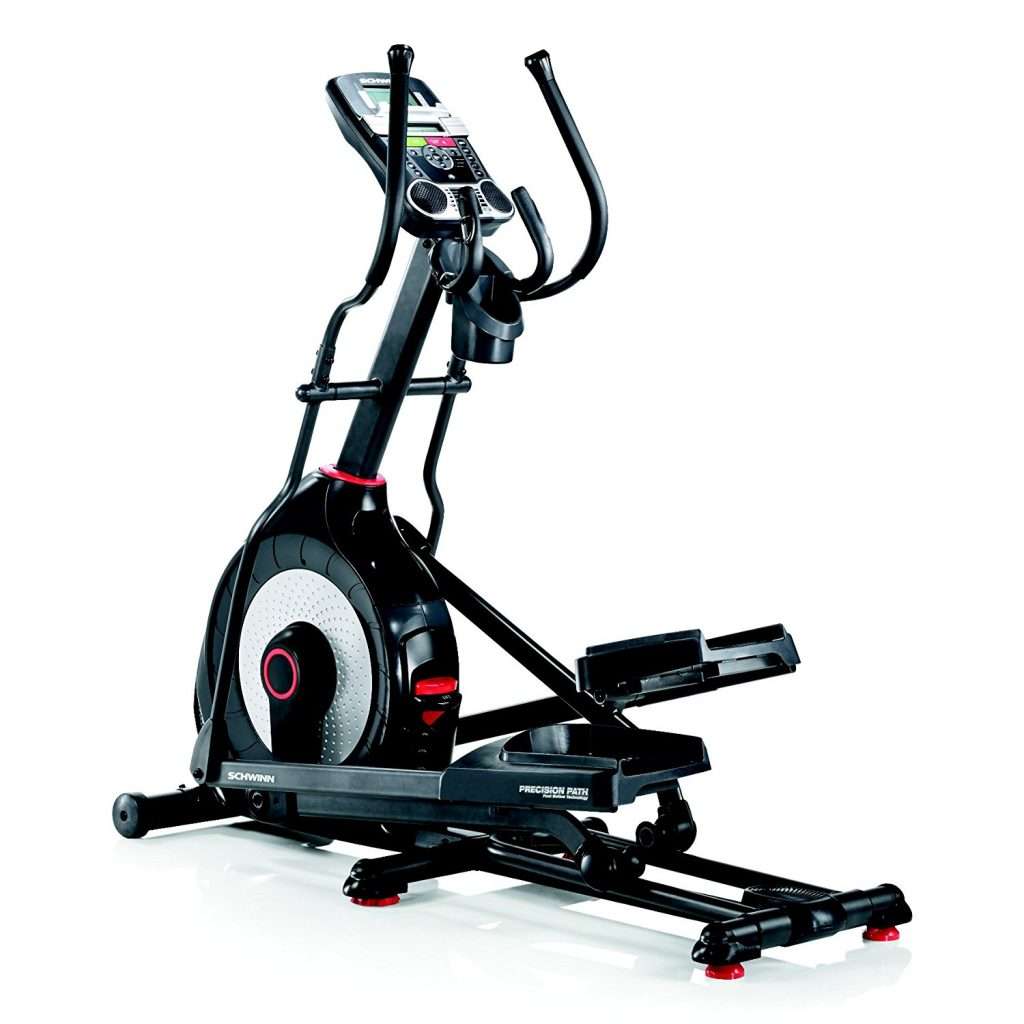 As an elliptical trainer it places very little strain on your joints. It also moves your arms and legs in a coordinated and balanced fashion. This helps to build strength without placing a strain on your back. The best exercise equipment for bad back and improving fitness is the Schwinn 430.
20 Resistance Levels
22 Programs
Dual Track LCD System
70 x 28 x 71 inches
The Advantages of the 430
When you buy a Schwinn product you are guaranteed to get a high quality, well-researched product. This is a company that has been in existence for over 100 years!
The machine weighs 168 pounds; that's enough to keep it in place no matter how hard you workout. Although considered an entry-level model this machine offers all you need and much more than many alternatives.
The machine is built to handle weights up to 300 pounds, enough for most people.
The feature range is quite simply impressive. It has a quick start function, 9 profile functions, 8 heart rate options and 2 fitness test programs.
All the information you need is displayed on one of the dual screens. You can adjust the intensity through the Eddy Current Brake resistance by simply touching a key on the screen.
You'll also benefit from a water bottle holder and a fan to help you keep cool.
Most machines offer the ability to track your distance and calories, but the list of tracking features on the Schwinn 430 Elliptical is quite impressive. It includes time, revolutions per minute, distance, pulse, speed, calories, course profile, heart rate zones, user indicator, % complete and even a goal achievement.
You can save the data on a USB and transfer it to your Schwinn Connect or MyFitnessPal to evaluate your ongoing fitness.
Disadvantages of the 430
No machine is perfect and the Schwinn 430 Elliptical Trainer does only offer 6 incline settings. This allows for a 10% increase in the incline.
While this is okay there are machines that offer 20% incline; providing a more intense workout.
The real issue with the incline is that you have to stop exercising to manually adjust the incline; that's never a good thing.
You can monitor your heart rate through the built-in grips.
Unfortunately, you cannot link this to a chest strap; which would prove beneficial. A chest strap allows you to concentrate on your movement, not on holding the grips and getting a heart rate reading.
Schwinn 270 Recumbent – Best For Lower Back & Degenerative Disc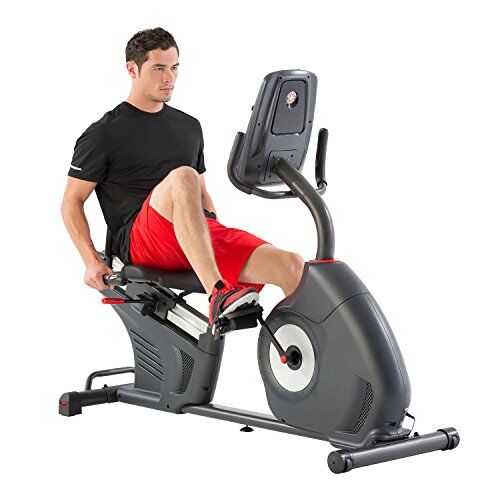 A recumbent allows you to sit back and have a great deal of back support while exercising. The focus is slightly more on leg strength but this can have an extremely positive effect on lower back strength. The best recumbent exercise bike for bad back is the Schwinn 270.
25 Resistance Levels
29 Workout Programs
Excellent Range Of Features
64 x 27.7 x 49.9 inches
The Advantages of the Schwinn 270
We've already mentioned the high quality of all Schwinn products and the Schwinn 270 Recumbent is no different. It is well built with a 10-year warranty on the frame, 2 years on mechanical and 1 year on the electrical system.
At 86.6 pounds it's not excessively heavy but it will handle weights of up to 300lbs.
This machine really comes into its own when you take a look at the different control settings available.
There are 25 resistance levels and 29 workout programs; all of which can be accessed from the main console.
It uses a high inertia drive system with a weighted flywheel. This helps to ensure the response is smooth, no matter how hard you work it.
The console provides instant access to 12 profile programs, 9 heart rate, and 2 fitness tests. This is enough for anyone to keep their workout varied and challenging.
You can also access the 2 fitness tests to evaluate your progress.
Alongside the 4 user profiles which can be stored, you are able to upload your workout data to Schwinn Connect or MyFitnessApp. This can be done by USB or Bluetooth.
There is also the ability to track a wide range of information; including speed, time, level, distance, calories, heart rate & resistance setting.
The Schwinn 270 Recumbent has 2 blue backlit screens to ensure you can see all the information you need quickly and easily.
It also comes with an inbuilt 3-speed cooling fan and built-in speakers to enjoy your MP3 files. There is even a shelf for your tablet and a bottle holder.
If necessary you can move the machine around your home easily on its transport wheels.
Disadvantages of the 270
It is good to note that the Schwinn 270 Recumbent can connect with a chest strap. However, there is none included, which is disappointing considering what you are paying for the machine.
This is a fairly small disadvantage but worth noting.
NordicTrack T6.5 S – Best For People New To Fitness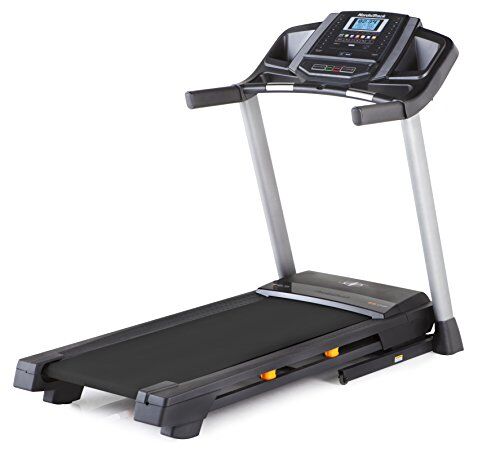 The treadmill is a great way to start exercising again. The cushioned tread will minimize impact while allowing you to exercise when it suits you best.
Powerful 2.6 horsepower Motor
One-Touch Incline & Speed Settings
FlexSelect Cushioning System
Folding Deck
73 x 35.75 x 67.5 inches
Advantages of T6.5 S
High-Quality Running Surface
The FlexSelect deck is soft and cushioned, reducing the impact on your knees and strain on your back. Surprisingly you can also change the settings to make this surface more like the unforgiving road.
This makes the T6.5 S Treadmill the best exercise equipment for bad back and an attractive option for those that like different styles of running; especially if you and your partner intend to use it.
The space is also genuine; offering a running surface of 20 x 55 inches.
One glance at the console will tell you everything you need to know. You can instantly access 20 workout programs; ranging from burning fat to improved cardiovascular fitness.
You can even expand the number of workouts available by connecting to iFit or use Google maps to feel like you're running through the world! This enables you to track your progress and even compete with your friends.
You'll be able to monitor your incline, time completed, and remaining calorie count, speed, distance and your heart rate.
NordicTrack is one of the biggest names in the fitness industry and they generally make excellent quality products.
The T6.5 S Treadmill definitely fits this description. The frame has a lifetime warranty, the motor and impressive 25 years, and all parts and labor 1 year.
It weighs in at an impressive 203 pounds and will accommodate people up to 300lbs.
A feature that you will certainly be grateful for if space is limited is the ability to fold the deck up. This greatly reduces the size of its footprint when not in use.
Folding it is as easy as pulling a lever and lifting the deck. It is almost effortless.
Disadvantages of T6.5 S
There is very little that can be called a disadvantage of this machine. The one flaw that I have noticed is the lack of a chest heart rate monitor.
The T6.5 S Treadmill is capable of connecting to a chest monitor but you are given one with the product. This is a shame.
In reality, this is not a deal-breaker for including the T6.5 S within our selection of the best exercise equipment for bad back.
Powerline P2X Home Gym Including Leg Press – Best Supplementary Exercise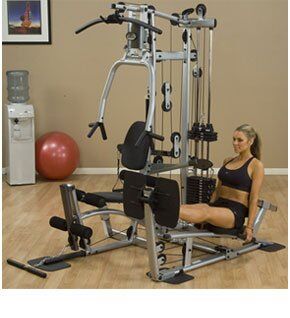 Elliptical trainers and treadmills are excellent for reducing impact and stress on your joints. However, they do not tend to offer much resistance. The Best exercise equipment for bad back within the home gym category is the P2X Home Gym.
Resistance is essential for building muscle strength which can help to alleviate back pain. Using free weights can place too large a strain on your back.
This is why I recommend adding a Powerline Home Gym; with Leg press to your home gym.
160lb Alloy weight stack plates
Multiple Press Station
Incorporates Leg Press
71 x 66 x 83 inches
Advantages of Powerline P2X
The P2X Home Gym really does offer the opportunity to work out all the muscles in your body through compound exercises. These improve the strength of your core; helping to support and alleviate back pain.
You should never complete an exercise that causes you more pain. But, the P2X Home Gym will allow you to undertake just the exercises that will help you.
Having several different workout points means that you are specifically targeting muscle groups and you will be in the right position for each exercise.
This is important to ensure you are not adding to the stress on your back.
The frame has a 10-year warranty and the parts come with 1 year.
The machine is heavy and has a fairly big floor space. But, once set up it will last for years.
Disadvantages
The P2X has a 160lb stack. This is great if you are just starting out. However, once you've been training for a while you may find this insufficient.
There is a 50lb upgrade option but even this may not be enough.
The Bottom Line
Getting in better shape is essential to building core muscles and supporting your back better. But, you must use the right equipment to do so. This is why the best exercise equipment for bad back is the Schwinn 430 elliptical trainer.
It has an excellent range of features, is well built, and has the flexibility you need to ensure you always find time to work out. I use it, you should too!