I love cycling and running through the summer. The air is warm, the early mornings are picturesque and even the pain of pushing my limits seems almost pleasurable. But then the fall arrives and winter rapidly backs it up. Despite my best intentions it becomes difficult to maintain the schedule. That's why I started looking at the best commercial recumbent exercise bike.
I wanted recumbent as an old back injury surfaces if I do too much on the upright style exercise bikes.
Of course I'm expecting a lot from the best commercial recumbent exercise bike. I want to enjoy the comfort of being inside while still feeling like I'm outside. I intend to maintain my triathlon training which will also require some stints in the pool; although my wetsuit may not be as appropriate.
I visited a large selection of gyms to see what equipment they had to offer and what they thought was the best. It should go without saying that I took my bike shoes and tried all the machines out several times.
What was interesting is that the majority of the places I visited recommended the NordicTrack Commercial Vr21 and I had to agree.
It isn't the most expensive bike on the list but it is extremely effective and easy to use. As much as I love hitting the gym, this is one I'm getting for home.

The NordicTrack Commercial Vr21 – Best Value
I was really pleased with how easy to was to jump on and start using the NordicTrack Vr21. It's like the machine was made to fit my build with all the necessary controls and accessories being at my fingertips.
It shouldn't be that surprising, NordicTrack have been producing fitness equipment for over 25 years. Their products are clearly designed with the fitness buff or professional athlete in mind; which is right up my street. But the ease of use and range of functionality makes them a good choice for anyone looking to improve their fitness.
5 inch display
20 pound inertia enhanced flywheel
Heart rate monitor
Fan included
32 workout apps
One Touch controls
Weighs 149 pounds
Advantages
The first thing to note is that the NordicTrack VR21 is a step-through style exercise bike. This makes it exceptionally easy to get on and off which is great if you do have any issues with your back. The seat slides back and forth on the rail allowing you to get the right distance for your legs to reach the pedals.
It's worth noting that the seat is cushioned to help support you and keep it comfortable when you're pedaling for miles. The backrest is high and ventilated, to help you stay cool as you ride.
The pedals themselves are extra wide to help you get a comfortable grip, no matter what size your foot is.
With 32 apps designed by professionals, you are certain to find something different that serves your purpose. You can choose between calorie burn, endurance, or performance; helping you to challenge yourself in a different way every day.
That's why this machine is so easy to use; I just selected a category, a program, and started pedaling.
The Vr21 is also equipped with iFit, you can connect to the iFit Coach app and access customized fitness plans, simulated outdoor training, (which I particularly enjoyed), and even log all your data for review at a later stage.
Your tablet fits onto the convenient shelf and you can connect your iPhone or MP3 player to enjoy some tunes as you go.
There are 25 resistance levels. This should enable you to get just the right workout whether you're looking to exercise for knee rehab, burn calories or improve your general fitness.
It is worth noting that there are heart rate monitors built into the grips on the bike.
This bike is built with a commercial-grade steel frame. This makes it very strong and durable. You shouldn't have any problems using it for years at home.
The water bottle holder can really be considered an essential item while the fan is a great benefit. It automatically adjusts according to the pace you're working out. This helps to keep you cool and helps you to feel like you're cycling outside.
The Vr21 also has wheels on the bottom that will allow you to relatively easily move the bike if necessary. Of course at 149 pounds you may not want to do this too often.
Disadvantages
A few users have noted that while the seat base moves the back does not. If you're not a standard shape you may find this is uncomfortable when cycling for any period of time.
I didn't have a problem but I can see how it could be an issue.
This can be ordered and delivered to your home. Although it is a commercial grade, it is a popular home option too. However, there have been several incidences of parts being missing or breaking very early in its life. Unfortunately, the customer service response is not always the best.
I've been using my bike for 4 months now without an issue but it's worth noting!
I found it very disappointing that there was no heart rate monitor included with the Vr21. It is possible to purchase on as an extra and connect via Bluetooth. However, considering the price of the machine I expected one to come with it.
Precor RBK 615 – Best If Money Is No Object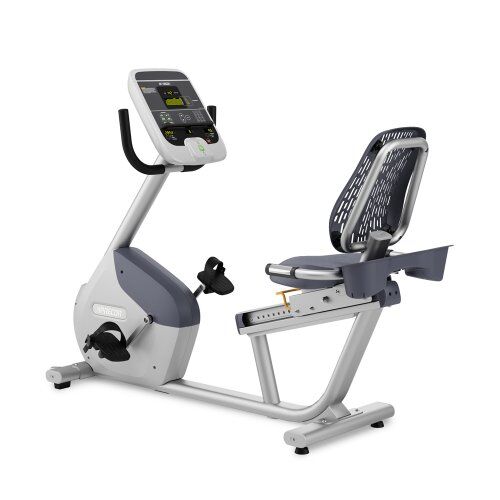 Precor has built a name for themselves as a manufacturer of premium fitness gear. They have been in business for over 3 decades and are dedicated to providing the best possible solution for every individual.
The Precor RBK 615 is not their top-end product but it is one that is definitely aimed at the commercial market. It's a serious investment for your home gym, but a worthwhile one if you have over $2,000 to spare.
Easy Step Through
6 Preset Workouts
Touch Sensor For Heart Rate
Weighs 200 pounds
Dimensions 66" x 23" x 49"
Belt Driven & Self Powered
Advantages
Turning the pedals while working out will actually create the electricity needed to power the RBK 615. This means you'll get all the advantages of a conventional electrical machine without having to pay a cent in running costs.
The design allows you to step through and into your seat. There is no need to lift your leg and risk making any back injury worse.
The seat support stand is set at an angle that allows you to create the right distance from the pedals and the ground; depending on your height.
The seat itself is well padded; using air flex cushioning and dedicated lumbar support. It is exceptionally comfortable; even after pedaling for over an hour
The standard Precor display unit is used on the RBK 615. This may look complicated but you have 6 quick select buttons that get you all the different workout categories. You can actually start working out incredibly quickly.
The central display is very easy to read and shows a diagram of your progress and what's to come. You can easily adjust the resistance while using the RBK 615; you'll also be able to see what it is currently set to on the lower part of the screen.
Time and distance are also displayed separately while you can scroll through calories burned, heart rate, and a variety of other pieces of data.
There are 25 resistance levels and just 6 workout programs. This choice may seem low but you can use the quick start buttons to help you get exactly what you need.
Disadvantages
It is worth noting that this machine is expensive. You can use it at your local gym or you'll need to have a reasonable amount of funds spare to invest in this for your home gym.
It is a worthwhile investment as it will give you years of service.
Several users have commented that while the pedals are extra wide to ensure comfort they are not very long. This can make it difficult to stay comfortable when pedaling for a long period of time.
Life Fitness 8500 – Best For Those On A Budget
This is an older machine but it still has a place on this list. There are numerous features which have been patented; this helps to maintain the viability of the Life Fitness 8500. Its age helps to ensure the price is kept down to an affordable level; making it one of the best choices for anyone on a budget.
Side Grips & Handlebar Ones
Large Display Console
6 Programs
Large Amount Of data Displayed
Weighs 266 pounds
Dimensions 78" x 29" x 47"
Advantages
The console clearly displays the time you've been exercising for, the pedal RPM, your speed in mph or km, and calories burned per hour. You'll also be able to see the total distance, your resistance level, heart rate and monitor the rises and falls in your heart rate.
That's pretty impressive. You can also download this information to assess it later.
There are 6 programs on the Life Fitness 8500. These are manual, random, hill, fit test, fat burn, and cardio. All you have to do is choose your goal and then get started. You can easily adjust your resistance level as you rise to help create a natural feel.
Life Fitness has been making exercise products for many years. This means that you're buying into their reputation and can be assured that you'll purchase a product that will withstand even the most intense workout; over and over again; for years to come.
This is part of what makes it one of the best commercial recumbent exercise bike you can buy.
It's also worth noting that the bike does not need a power source; effectively eliminating some of the issues that can affect this type of exercise machine.
Disadvantages
The Life Fitness 8500 can handle people up to 250 pounds. This is good enough for most people but is worth noting as a negative; the other bikes on this list can handle more than this.
The design is older and looks a bit dated. This isn't surprising but may be enough to put you off purchasing the machine.
It's also missing some of the more essential extras such as a bottle holder, chest strap for heart rate monitoring, or tablet platform. This is disappointing considering the price tag.
The Best Commercial Recumbent Exercise Bike Reviewed
I have absolutely no doubt that the NordicTrack Commercial Vr21 is the best commercial recumbent exercise bike that you can buy. It is durable, easy to use, and has an excellent range of functions. While the RBK 615 does have more bells and whistles it also has a much higher price tag.
In contrast the 8500 from Life Fitness offers great potential, especially if you're on a budget. But, it is outclassed by the NordickTrack Vr21, that's what I've got and I love it!