Competing in a triathlon is hard work. Not only do you have to be physically fit enough to handle running, cycling, and swimming; you also have to consider whether you can afford the best tri suit for ironman while cycling or running. Let's face it, an exercise bike simply isn't going to cut it.
That's the problem faced by most tri-athletes, is that you need to invest in a good suit; if you don't then your time will be affected as you change between stages.
Fortunately, I've tested a few suits and am confident that you'll struggle to do better than the De Soto Forza ITU. This is the best tri suit for Ironman no matter how experienced or inexperienced you are.
Keeping moisture away from your body is one of the most challenging aspects of a triathlon suit. It needs to keep the coldness of the water off your body while being able to remove your sweat as you run or cycle and keep you ventilated at the same time!
This is not an easy feat but is one that the De Soto Forza ITU does very well; which is why it is top of this list.
De Soto Forza ITU – Best Tri Suit For Ironman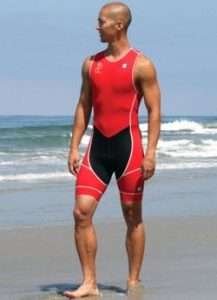 There is no doubt in my mind that this is the best tri suit for Ironman no matter what level you are competing at. There are a number of great features:
High-Quality Material –Liftfoil with coldblack lower abdomen panel
Approved By International Triathlon Union (ITU)
7mm Clasico Integrate Pad
Curvilinear Seamlines & Contrast Flatstitch
Weight of just 8 ounces
Advantages
It doesn't matter if you choose the De Soto tri suit in black, red or blue it will come with the coldblack lower body abdomen panel and a top made from liftfoil. These are designed to keep you cool while running and cycling and warm while swimming; even in the river or the sea.
The suit also has a compression double-legband 12" YKK zipper in the back. The ITU rules no longer allow this at the front.
You'll also find the Clasico 7mm float pad is perfect when in the water; you will swim faster. The pad actually stretches with the suit to act as a second skin; preventing you from being irritated by the friction and chafing as you move.
The coldblack panels are designed to deflect UV rays; helping to reduce the threat of damage by strong sunshine while exercising. This doesn't mean you shouldn't use sun cream as well, but it will give you some peace of mind as you exercise.
This is so good that it is worth mentioning in its own category. The customer service is excellent. You will be guided through the process to find the right suit for you and the right size. It's not just about the size of your body; your intended use and style of exercise make a difference.
The customer service team now this and help you find the perfect suit for your needs; this is part of the reason the De Soto Forza ITU is the best tri suit for Ironman.
These are a great feature to ensure that you are able to carry small items without creating any drag. This eliminates the need for a wetsuit and helps you increase your time on the swimming section.
Without the lids, the water will immerse itself into your pockets and create additional drag. These pockets are designed to be waterproof to help protect your valuable nutrition; essential in the Ironman contests.
Disadvantages
Most athletes do not find this an issue and it is necessary if you're intending to compete in any professional race.
However, if you're able to roll it down during a race to help keep you cool then you may find it awkward to do.
If you're intending to compete there is little you can do about this.
Even though it has a coolblack top section, it is still black. Several people have commented that on a hot day this will attract the heat of the sun and make you hotter than you need to be.
This wasn't an issue I discovered while using the De Soto Forza ITU.
Louis Garneau Course M-2 Skin – Best If You Suffer From Heat On The Running Section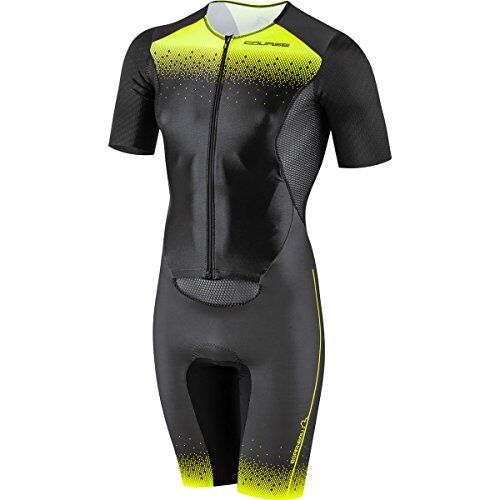 One-piece tri suit with attached zipper top
Made with patten Speedtech material
Utilizes coldblack to help keep you cool
2 gel pockets to store nutrition
Advantages
Unlike many of the tri suit offerings, the top of the Louis Garneau Course M-2 Skin is designed to allow you to unzip at the front and still have a shirt on underneath. This prevents you from breaking any race rules. But, the unzipped top allows the air to flow freely around and through the mesh material; helping you to stay cool while running or even cycling.
This is a material that has been created by Louis Garneau and has a dimpled construction that can make a difference to aerodynamics if you're traveling between 25 and 70 km/h.
The fabric is capable of reducing your CdA by as much as 6% which could reduce your time by as much as two and a half minutes on a 90km flat course!
Nutrition is essential when competing in triathlons or Ironman contests, this is why the two gel pockets are an essential addition. But, they have been created as part of the inner top; you'll need to unzip the outer jacket to get to them.
While you won't be accessing the on the swim this does make them perfectly positioned for the running section; when you're most likely to need them.
Disadvantages
This suit fits perfectly. However, as with anything that hugs your figure you will find it reveals every curve; even those that you don't feel comfortable showing.
This is particularly noticeable around your stomach area!
Most sleeved tri suits support the suit through the arms; helping to prevent it from sliding or creating wrinkles. The M-2 feels like you are supporting the entire suit on your shoulders; which in fact you are.
Some people find this exceptionally comfortable but others have had issues regarding comfort, particularly during the running stages.
Sugoi RPM Tri Suit – Great For Beginners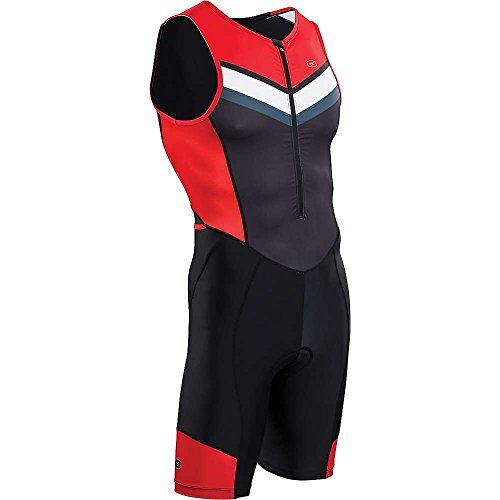 Mesh Panel Backing
Front Zipper
Chili Red Color Smart not Flashy
85% Nylon / 15% Spandex
Stretch Drawstring For Waist
Weighs 7.8 ounces
Advantages
The mesh panels on the back allow for excellent breathability while running and cycling without hindering progress in the water.
It has a front zip to help increase ventilation if needed although there is no protector so you'll need to watch your skin when zipping or unzipping in a hurry.
The material actually feels very thin but it is surprisingly durable and the lightness helps to maintain comfort.
The pad in this suit is thin but works exceptionally well; ensuring you're comfortable on the bike without getting in the way while you run.
It's very important to have a suit that dries quickly after you have left the swimming section and are starting to run. All of these suits do this well; the Sugoi RPM tri suit does this exceptionally well.
Disadvantages
Padding At Front Of Suit Lacking
There have been several comments regarding the padding at the front of the suit failing to provide adequate protection for your important parts.
This separate to the issue of comfort while riding; one of the biggest issues in any Ironman contest; you may not find it an issue but it is important to be aware of it.
In general, the suit is well made but several consumers have noted that you'll find the odd thread coming out or perhaps a piece that could have been finished better.
These issues are generally very minor and not worth complaining about. Although it is worth noting the customer service response is excellent.
The pockets are a little on the small size; you'll struggle to put a power bar into them. Nutrition gels are fine but you may struggle to get to the gels while you're moving.
It may get easier with use. However, the few seconds it delays you every time will probably not make a huge difference to your time if you are new to the triathlon. It could be an issue if you're getting serious; you can't afford to lose any seconds.
Summing Up The Best Tri Suit For Ironman
There is no doubt that a tri suit is an important part of your training and competition entry as the actual training and the fitness watch you wear. Not only is it more aerodynamic than most other options, but it will also save you from having to waste time transitioning between clothing.
Whether you're a first time triathlete completing pull-ups or if you're doing the Ironman challenge for the 10th time; you'll welcome the convenience and time-saving benefits of these suits.
However, it is important that you choose a suit that fits comfortably, dries quickly, and feels like you're not wearing a suit at all.
There are plenty to choose from but the De Soto Forza ITU is, to my mind; the best you can buy for a very reasonable price. You will notice an improvement in your times and your comfort level.
Don't delay, try it today and show the world how serious you are about being the best you can be!